Auto Injury Treatment at YourBack Chiropractic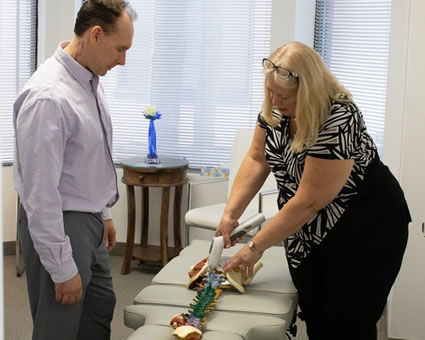 Automobile accidents cause many obvious signs of damage, from the destruction to your vehicle to the aches and pains that you feel. Being in an accident can also injure your body in ways that may not be as obvious, or your body may not heal properly from your injuries. Our practice recommends an examination at our office shortly after your auto accident to make sure that you do not have hidden injuries or problems in the months and years to come.
Whiplash is one of the most common problems that happen during an auto accident. The forces that act upon your body cause your head to quickly snap forward and backward. The energy then travels down your spine to your tailbone, as well as into your extremities, such as the arms, shoulders, hips, and legs. Along the way, this energy can damage joints and soft tissue and cause misalignments. You may not even notice the problem because you are in a state of temporary shock. It may be days or weeks until you notice discomfort, and you may not realize that it is related to the accident.
The damage from an auto accident goes beyond whiplash. You may have a concussion, rib injuries, damage to your ankles and feet, and more. The nerves from the spine to your arms may be impinged, causing random episodes of pain, aching, numbness, and tingling. Many of the people who work with our doctors after a car accident are also dealing with the fear and emotional trauma after their accidents, and this can make any type of doctor visit uncomfortable. Our team uses a very gentle approach in their manner and techniques to help you feel at ease, relaxed, and comfortable.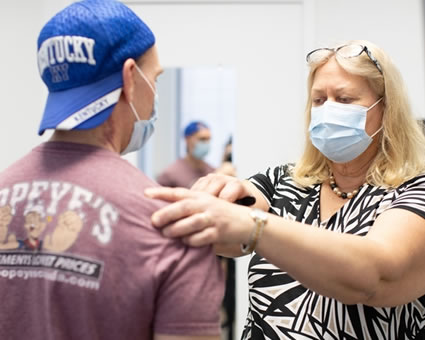 How Does it Help?
Chiropractic care after an auto accident alleviates your symptoms and helps your body heal properly. Our doctors use techniques that promote self-healing within the body, and they do not rely on medications or surgery. While you may still need to work with your primary physician and specialists in the months after your accident, chiropractic care is an excellent complementary, supportive therapy to enhance the outcomes of more traditional approaches. You may find that the reliance on pain medications and surgery is less by integrating chiropractic treatments into your overall plan of care.
When one of our doctors first meet with you, they conduct a thorough examination to find areas of your body that require attention after your auto accident. The exam includes:
Muscle strength
Range of motion
They then review their findings with you and recommends an individualized plan of care. You may be surprised to find how many areas of your body were affected by the accident.

The primary technique that our doctors use for their auto accident patients is the activator. This is a handheld tool that applies pressure at a specific speed and pressure to realign the body. They may also recommend other techniques, such as total body modifications and applied kinesiology. Our doctors also work in the area of nutrition to ensure that your body has the key nutrients to support a healthy immune system and proper healing.
Is Chiropractic Care Covered by Auto Accident Insurance?

Yes! Ontario is a "no fault" jurisdiction. All insurance companies will pay up to a maximum amount, typically $3,500, for minor injuries, such as those that are addressed with chiropractic care. We bill the auto insurance directly so you do not have to pay out of pocket as long as the limits have not been reached. Our massage services may also be covered. Most plans of care for auto accidents fall well within the $3,500 limit. For more information, call us at (905) 281-8282.
What if Insurance Does Not Cover the Full Amount?

Based on their experience with treating auto accident injuries, our doctors are confident that chiropractic care can easily be provided within the limitations of policies. If you should need more than what is covered, you can pay out-of-pocket, or our doctors may refer you to a specialist to see if you have a more significant underlying issue.
Will You Work with My Lawyer?

We can work with your lawyer. Please call us at (905) 281-8282 for more information and details.
Schedule Your Appointment Today
Time is of the essence for seeking care after an auto accident, and you should see one of our doctors even if you do not have any symptoms of injury. Call YourBack Chiropractic today at (905) 281-8282 to schedule an appointment. Please bring any medical records and x-rays related to your accident.
CONTACT US »

Auto Injury Treatment in Mississauga ON | (905) 281-8282