Concussion Care at YourBack Chiropractic
A concussion is a disturbance in brain function as a result of indirect or direct force to the head. Concussions happen often and aren't just sports-related. Anything that causes a rapid movement of the brain inside the skull has potential for injury.
It's unlikely you would ever experience a concussion without whiplash. The force needed to cause a concussion is 3 times greater than whiplash. As a result, many concussions also exhibit neck and shoulder issues. Chiropractic care and cognitive rest are very important in the initial recovery stage.
The Discovery Process
When someone exhibits symptoms indicative of a concussion, it's important to get them checked out asap. Our doctors do a full consultation related to the specifics of the injury and all concussion signs and symptoms are reviewed.
A full spine examination is performed as the cervical spine position, especially at the occiput/C1, affects the flow of cerebral spinal fluid. Any misalignment must be cleared for the health of the cervical spine and for recovery after cranial adjusting. Blind spot mapping is done to find the area and size of the lesion.
Jason Breedon, our registered massage therapist, also reviews the symptoms and how long the patient has been suffering.
Several rehabilitation techniques may be used to treat your concussion. A key area of focus is whether there are any musculoskeletal complaints.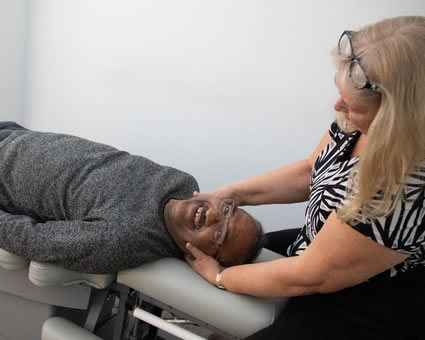 Symptoms to Be on the Lookout For
There can be various signs and symptoms of a concussion, both physical and mental:
Headache
Ringing in the ears
Nausea
Vomiting
Fatigue or drowsiness
Blurry vision
Confusion or feeling as if in a fog
Amnesia surrounding the traumatic event
Dizziness or "seeing stars"
Slurred speech
Delayed response to questions
Dazed appearance
Forgetfulness, such as repeatedly asking the same question
Temporary loss of consciousness (though this doesn't always occur)
If any of these symptoms are apparent, call and make your appointment now, don't delay.
Once your evaluation is complete, our team will schedule you for a minimum of 3 visits per week for 4 weeks. You will receive a full spinal adjustment and cranial adjustment each visit. Eye/hand coordination exercises are prescribed as well. A high DHA Omega 3 and/or SPM Active supplement are helpful in reducing inflammation.
We recommend that you sleep, when you are able to. It is also suggested you rest away from light, sound and computers. You may also need to put job and household obligations on hold temporarily.
We also recommend patients go through the concussion protocol with Jason.
Jason follows the Concussion Recovery Therapy (CRT) protocol which uses Microcurrent Point Stimulation (MPS) therapy to correct the effects of concussions and brain injuries. This therapy reduces the production of Cortisol, the stress hormone. As a result, patients may see an improvement in headaches, dizziness, brain fog and sleep duration.
Microcurrent is extremely close to our body's natural bio-electric currents. By applying MPS at key acupuncture points in the brain, we are able to reduce stress, pain and improve function.
Book an Appointment Today
Concussions shouldn't be ignored; the effects can linger and cause other physical and mental complaints. YourBack Chiropractic has helped people just like you get back to a normal, happy life. Contact us today for an appointment; let us help you as well.
CONTACT US »

Concussion Care in Mississauga ON | (905) 281-8282