Meet Dr. Emily Andersen
Dr. Andersen's first chiropractic experience happened when she was only 16. She had been suffering constant headaches for two years. Within two months, the headaches had greatly improved and her body seemed to be working better. She was soon considering a career in chiropractic.
Chiropractic played a valuable role in her own maternity and labour care. She raised her children on chiropractic care from birth. Children of chiropractors are statistically healthier and take far fewer medications than the general population. She found that to be true in her own family. Dr. Andersen has always enjoyed working with maternity patients and helping them raise their infants and children in a healthy way.
She has practiced in Mississauga since 1990. She is an eclectic practitioner, taking effective procedures from many different technique methodologies and blending them into her own unique approach. Dr. Andersen also uses the Activator Method Technique, having achieved advanced rating for 30 years. She also provides First Line Therapy, a nutritional counselling program highly regarded for therapeutic lifestyle intervention.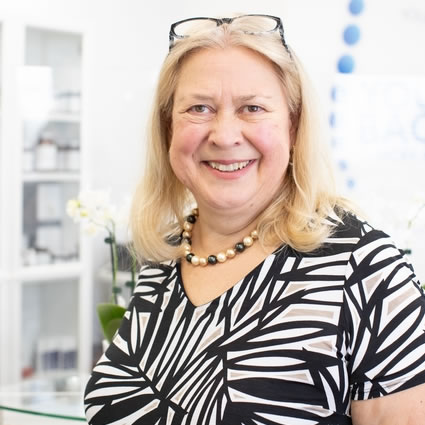 Education in Chiropractic Care
Dr. Andersen completed her degree at Canadian Memorial Chiropractic College in Toronto. Since that time, Dr. Andersen has completed continuing education in:
Activator technique
Applied kinesiology (400 to 500 hours)
Total body modifications (100 hours)
Cranial adjusting (50 to 60 hours)
Functional medicine nutrition (200 hours)
Outside the Practice
Dr. Andersen is in the gym almost every day. She spends her free time outside the practice hiking, walking, and swimming in the area's lakes. Dr. Andersen also enjoys cooking, nutrition, and reading fiction and non-fiction. She loves to try new things and can't wait to meet you.
Book Your Appointment Today!
Dr. Andersen looks forward to meeting you and helping you with your health goals, whether they are pain or function related or for overall wellness.
Help your body heal with chiropractic treatments at YourBack Chiropractic. Call us today at (905) 281-8282 to schedule a free 15-minute consultation or 45-minute appointment with Dr. Andersen.

Dr. Emily Andersen | (905) 281-8282