Meet Jason Breedon, RMT, PTS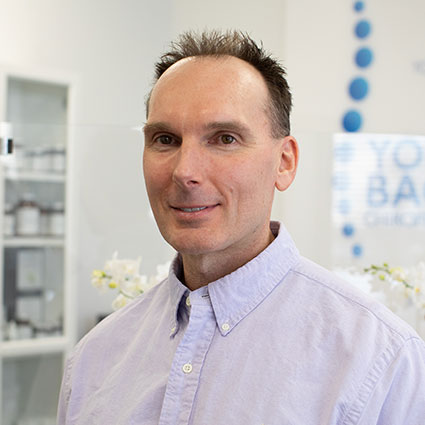 Jason is a Registered Massage Therapist (RMT). He graduated with a Diploma in Massage Therapy from the National Institute in 2015 and is a member in good standing with the College of Massage Therapists' Association of Ontario (CMTO). He is a member of the Registered Massage Therapy Association of Ontario (RMTAO).
Jason's passion for massage therapy stems from working with people and the fascination of the human body. His journey into the world of natural healing started when he was recovering from his own personal injuries. During his massage therapy treatments he realized the power and potential of this profession which sparked his passion and in turn his commitment to his clients today.
He is competent in all Swedish styles of massage, deep tissue massage, myofascial release, pre- and post-natal massage, sports injury treatment, concussion therapy, and treating everyday aches and pains from headaches to overall muscular tension.
Jason is certified in Microcurrent Point Stimulation (MPS). MPS therapy integrates the principles of acupuncture and direct current with modern neurology to provide an all natural and holistic approach to treating the body, mind and scars. This combination produces highly effective results. He is an MPS instructor with Acumed Medical. He is also a registered Personal Trainer (PTS) with Canfit Pro and he has dedicated most of his professional life to helping others achieve their personal fitness and wellness goals. He has spent his life competing in a high level of athletics and is personally committed to living a healthy lifestyle through nutrition and physical fitness.
Previous clinics that he has been involved with include Wallis for Wellness in Brampton and Quality Care Sports Injury in Oakville. He currently treats clients at the Canadian Back Institute (CBI) in Georgetown.
Professional Development
St. John's Ambulance Standard First Aid with CPR C + AED
Microcurrent Point Stimulator (MPS)
Concussion Therapy
Scar Therapy
Auricular (EAR) and MPS Circuits
Anne Hartley Academy
Visceral Mobilization
Cranial Sacral Therapy
SWIS Muscle Testing: Level 1, Upper and Lower Body Exercise Muscle Testing
Advanced Muscle Testing: Weight Shoulder Injuries (Dr. David Leaf, Applied Kinesiology)
Fascial Stretch Therapy Techniques for the Shoulder (Kevin Darby)
Myofascial Compression Techniques – The Evolution of Foam Rolling
Strengthening the Fascial Lines in 3D
Advanced Mobility and Adhesion Techniques (Donnie Thompson)
Chuck Wolf, MS
Regress before Progress: Strategies for Post-Rehabilitation Program Design
The Science of Squatting
Low Back Considerations: Functional Solutions
Training the Female Client (Fabio Comana, MA, MS, NASM CPT)
Building a New Woman – A look at how Performance Matters (Julia Ladewski)
Activation before Loading
Strength Correctives, Building Armor for your Athletes (J L Holdsworth)
Advanced Hypertrophy Training (John Meadows)
Injury Prevention in Strength Training (Ian King)
The "Slow" Approach to Developing Blazing Speed (Joe De Franco)
The Truth about Variables and Coaching Cues You Need (Lorne Goldenberg)
Advanced Rotator Cuff Rehab Protocols (Dr Dale Buchberger)
Rehabilitative Exercise: Knee Injuries
Exercise is the Best Medicine: Your Role in Preventing and Transforming Chronic Disease

Jason Breedon | (905) 281-8282