Pediatric Chiropractic at YourBack Chiropractic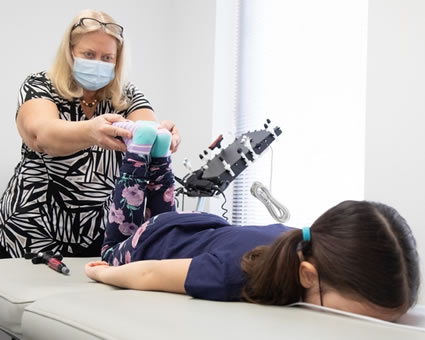 Mississauga Chiropractor Dr. Andersen recommends pediatric chiropractic care for newborns, toddlers, children, and adolescents. Each stage of early life brings about changes to the body, as well as new skills that can affect the joints and other structures. Approximately 60% of newborns and babies have some type of subluxation related to being born. After birth, a baby's body may develop other misalignments during diaper changes, falls when learning to walk, and stress during playtime. Colic is another common condition in babies that Dr. Andersen treats, many times with probiotics to support gut health.
For children, Dr. Andersen identifies areas of the body where the bones are developing at different rates and offers solutions to support a more optimum balance. She also works with children who have misalignments due to falls as they play and improve their coordination and movements. Scoliosis in toddlers and young children can be detected and treated with chiropractic care, and the condition needs to be addressed before puberty.
Immune function, body mechanics, illnesses, and spinal mechanics are just some of the other ways that Dr. Andersen can help your child grow and develop properly.
Young bodies are constantly developing, and any stress or injury can have long-lasting implications for your child. By addressing these issues early and providing additional support for your child's developing body, Dr. Andersen helps to set children up for success and ensure that they are able to enjoy their lives well into adulthood.
Children are often nervous, anxious, or even fearful of going to the doctor. Mississauga Chiropractor Dr. Andersen makes each appointment enjoyable and engaging. Our office has toys in the waiting areas, and Dr. Andersen tailors her approach to the personality of your child. She may play a game of peek-a-boo or educate children about their bodies and the treatments. Dr. Andersen also listens to your child during the appointments. If she senses that your child is not comfortable with a specific treatment, she will adjust her technique.
Just as she does with adult patients, Dr. Andersen focuses on developing a trusting relationship with her younger patients.
Book an Appointment for Your Child Today!
Working with children is where Dr. Andersen's approach really shines. She engages children in the entire process and strives to develop a positive relationship. To learn more about pediatric chiropractic care at YourBack Chiropractic, contact us today at (905) 281-8282 to schedule an appointment.
CONTACT US »

Pediatric Chiropractor in Mississauga ON | (905) 281-8282