Microcurrent Point Stimulation Therapy (MPS) at YourBack Chiropractic
We utilize Microcurrent Point Stimulation Therapy (MPS) in different ways throughout the practice to help our patients.
What is MPS Therapy?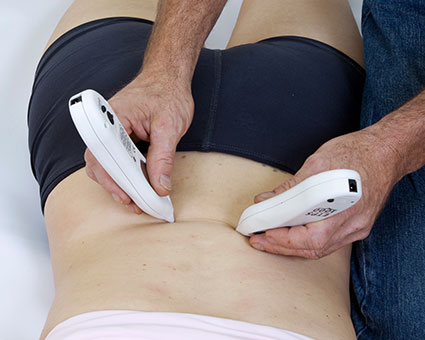 Microcurrent Point Stimulation therapy uses a low frequency DC current to stimulate the same pressure points as acupuncture. This protocol is based on the belief that pain can come from several locations on the body. Applying stimulation at multiple points helps to achieve a more permanent solution.
During the session, a handheld device is used to apply brief, concentrated microcurrent impulses of DC current to specific treatment points (acupuncture, motor and trigger points). This microcurrent closely approximates the natural current our nervous system and heart use.
Some of the results seen from using MPS therapy are:
Naturally reduces nervous system STRESS and cortisol (average 48%)
Increases HRV (average +39.2%)
Releases muscle tension and joint restriction
Releases the body's natural pain killers (endorphins)
Down-regulates the sympathetic nervous system allowing the body to heal
Releases scar tissue and adhesions
Improvement in pain relief & functional outcomes (average 75-80%)
Increases re-innervation of neural pathways
Relaxes the low back muscles helping to realign the sacrum (cranial-sacrum have to work together)
Fantastic News! COVID19 fighting therapy is available at our office,
now approved by Health Canada. Details below.
Leading edge therapy using the Dolphin MPS (Microcurrent Point Stimulation) has been endorsed by Health Canada for the treatment of Acute COVID19 Symptoms (March 1, 2021) as seen on the Health Canada website (type dolphin into the 'filter items' box). For additional information visit the Dolphin MPS website by clicking here.
Everyone can benefit from this treatment. It can be used for general relaxation to the most complicated health conditions. All ages can benefit from being treated with MPS.
Our patients have achieved benefit from use of MPS on these conditions:

Concussions
Arthritis & Tendonitis
Back pain
Sciatica
Frozen shoulder
Knee pain
Fibromyalgia
Carpal tunnel syndrome
Bursitis
Sports injuries
TMJ
Hip pain
Scars & adhesions
Stress, anxiety, depression
Improves athletic performance and recovery
Multiple Sclerosis
Lyme Disease
We recommend patients schedule anywhere from 1 to 10 sessions; depending on the specific condition and its severity.
If you come in to YourBack Chiropractic after experiencing a concussion, Jason follows the Concussion Recovery Therapy (CRT) protocol which uses Microcurrent Point Stimulation (MPS) therapy to correct the effects of concussions and brain injuries. This therapy reduces the production of Cortisol, the stress hormone. As a result, patients may see an improvement in headaches, dizziness, brain fog and sleep duration.
Microcurrent is extremely close to our body's natural bio-electric currents. By applying MPS at key acupuncture points in the brain, we are able to reduce stress, pain and improve function.
Read more about concussions to find out more.
Read the attached documents to learn more about Microcurrent Point Stimulation Therapy.
Ready to Book Your Appointment?
Are you ready to see how MPS can help you? Contact us to schedule your appointment today and get started with this treatment today.
CONTACT US »

Microcurrent Point Stimulation Therapy in Mississauga ON | (905) 281-8282